Architectural Control Committee
The Architectural Control Committee (ARC) is set up and appointed by the HOA Board to oversee and approve the applications from residents who care to make changes to their homes.
If you would like to volunteer for the Architectural Control Committee, please send us an email.
Updating your home or property?
Making changes to your home is a great way to keep up with maintenance as well as personalize the curb appeal to your home. To ensure that you are compliant with our covenants and by-laws you must complete the following process. Failure to follow this process may result in negative action against you to restore your lot to the previous condition all at the homeowner's expense. So plan wisely and leave yourself plenty of time to get your project approved.
Questions? Email Modifications@allinonemgmt.com
To submit your application for modification of your home
ONLINE (preferred method)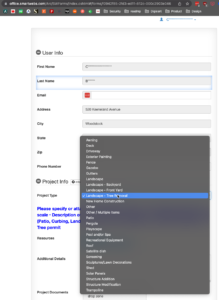 Fill out the Architectural modification form at All-In-One Community Management: https://office.smartwebs.com/Arc/SWForms/index.cshtml#/forms/f0942f85-2fd3-ed11-812c-000c2903e046
You may need to register first
To begin, enter the first 3 digits of your address and then your zip code.
You can select the specific change you are requesting.
There are downloadable guidelines available on the site (and below)
For painting requests, physical paint swatches must be dropped of at the front clubhouse for review
Submit the swatches in an envelope with your name and address
EMAIL or DROP-OFF
Download the appropriate form below, fill it out, include the required documentation mail to
Or Drop the hardcopy (make copies for your own records) at the front clubhouse mailbox (checked generally once a week)
Once your application has been received you will receive a response within 30 days (of that receipt) informing you of the status of your application.
Request forms and documents
Required if not using the preferred online form
Wrought-iron mailboxes (2 vendors)
No ARC request is required for installation of these mailboxes, as the designs are pre-approved.
What work must be approved
Painting
A three-color paint scheme is preferred (the trim and garage door being the same color, shutters and front door being the same color), but the ACC will consider two-color schemes. Earth tone paint schemes and current trends may vary, so consult some local neighborhoods for ideas. The ARC may request additional information as necessary. Not all paint schemes will be acceptable.
Exterior brick on homes may now be painted pursuant to the following terms and conditions:
VENDORS
Brookshire has pre-approved these vendors for brick painting (more to be added in the future).
If you opt to use another vendor, they must have expertise in brick painting. All contractors must be approved by the Architectural committee.
PRE-APPROVED PRODUCT AND COLORS
Brookshire has pre-approved these products for brick painting (more to be added in the future).
If regular exterior paint is used, it may create a layer over the brick and will eventually peel or crack.  When using a product such as Romabio, the paint seeps into the brick and becomes part of the brick where it naturally ages and continues to look nice.  This product comes with a 20 year manufacturer warranty.  Other comparable products are on the market, and we will update approvals periodically.
If you opt to use another product, it must be formulated specifically for use with brick.
All other product, washes and colors must be approved by the Architectural committee.

Fences
Adding, modifying or removing, painting
Landscaping
Adding, removing or modifying: patios, installed firepits, walkways, large bushes, playsets, pools, and major flowerbed changes, e
Home modifications
Adding, removing or modifying: Roofs, windows, doors, additions, garage doors, house doors, decks, external stairs and railings, etc.
Notes:
Roofs and Decks: Even if you're are replacing your roof with like colors or re-building your deck to the original specs,  you must submit a form for our records (since we won't know you're replacing like with like).
Windows: Replacement windows must use the grid style the homes were built with.
Front yard tree removal
Some trees require approval from the city before the Architectural committee can approve
Back yard trees
Large and multiple tree removals
You may not remove trees or modify the landscape in any Army Corps of Engineers property adjacent to yours.