Tennis
The tennis committee helps grow the awareness and participation of residents in the neighborhood.  The tennis committee meets to review the current rules, maintenance needs, participation and local involvement in the community.
Brookshire Tennis
We're always looking for new captains and players.

Brookshire sports6 hard-surface tennis courts. The courts are open for residents and their guests all year-round. Reserve a court at reservemycourt.com (registration is free). Reserving a court isn't necessary, but a reserved court takes precedence over walk-ups.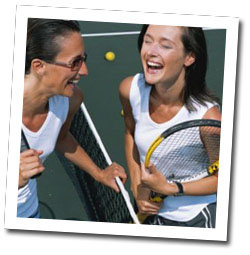 Individual and team tennis opportunities about here at Brookshire. Currently, Brookshire fields women's and men's ALTA teams,  ALTA mixed doubles teams. We also have men's, ladies, and mixed USTA teams which compete all year. Men's and Women's ALTA teams have won multiple City Championships – and are always in the hunt for division and city titles!
If singles is your thing, there are several men's and women's singles leagues around metro Atlanta. The largest and most popular is Ultimate Tennis (formerly K-Swiss). There is also Peach Tennis, Visionary Tennis, League Tennis and others.
Doubles players have plenty of options as well. T2 Tennis is the most popular option for Doubles in and around Atlanta. There is also League Tennis. But if you are into team doubles action – please visit USTA or Atlanta's own ALTA (Atlanta Lawn Tennis Association).
Keycard access
If you have problems with your keycard not working, need a new card, or have any other keycard access issue, please email [email protected]